Mathematics, ICT, Natural Sciences and Technology
Since the foundation of the school, we have had MINT – in English speaking countries known as STEM – as a focus, as the concentration on these subjects forms the most important basis for innovations and technical developments in later professional life, especially with regard to the advancing digitalisation of all areas worldwide and the important future topics of nature and environmental protection, energy and sustainability, nutrition and resources. Since 2020, we are proud of our certifications as a MINT-friendly school in Germany and as an Umweltschule (environmental school) in Europe. Since this school year 2023/24, we are also pleased to be awarded as a "Digital School" for the first time and will take part in the official award ceremony in November 2023.
There are no classic female or male professions or careers. Our primary goal is to inspire girsl and boys alike through these subjects and to develop their confidence within these areas without creating an aversion towards these subjects, which are traditionally seen as complex. We therefore choose the method of addressing everyday questions from the students and answer them in a practical, experimental manner.
Dealing with MINT and its wide range of applications has become a natural part of our school culture in interdisciplinary, project-oriented and often cross-class activities. In special clubs, at competitions, project days, at our school events, on school trips and in our Work & Travel program, we take up mathematical, scientific and information technology topics and contents in all class levels. Our subject rooms, the workshop and many excursions offer stimulating learning environments for practical and hands-on learning.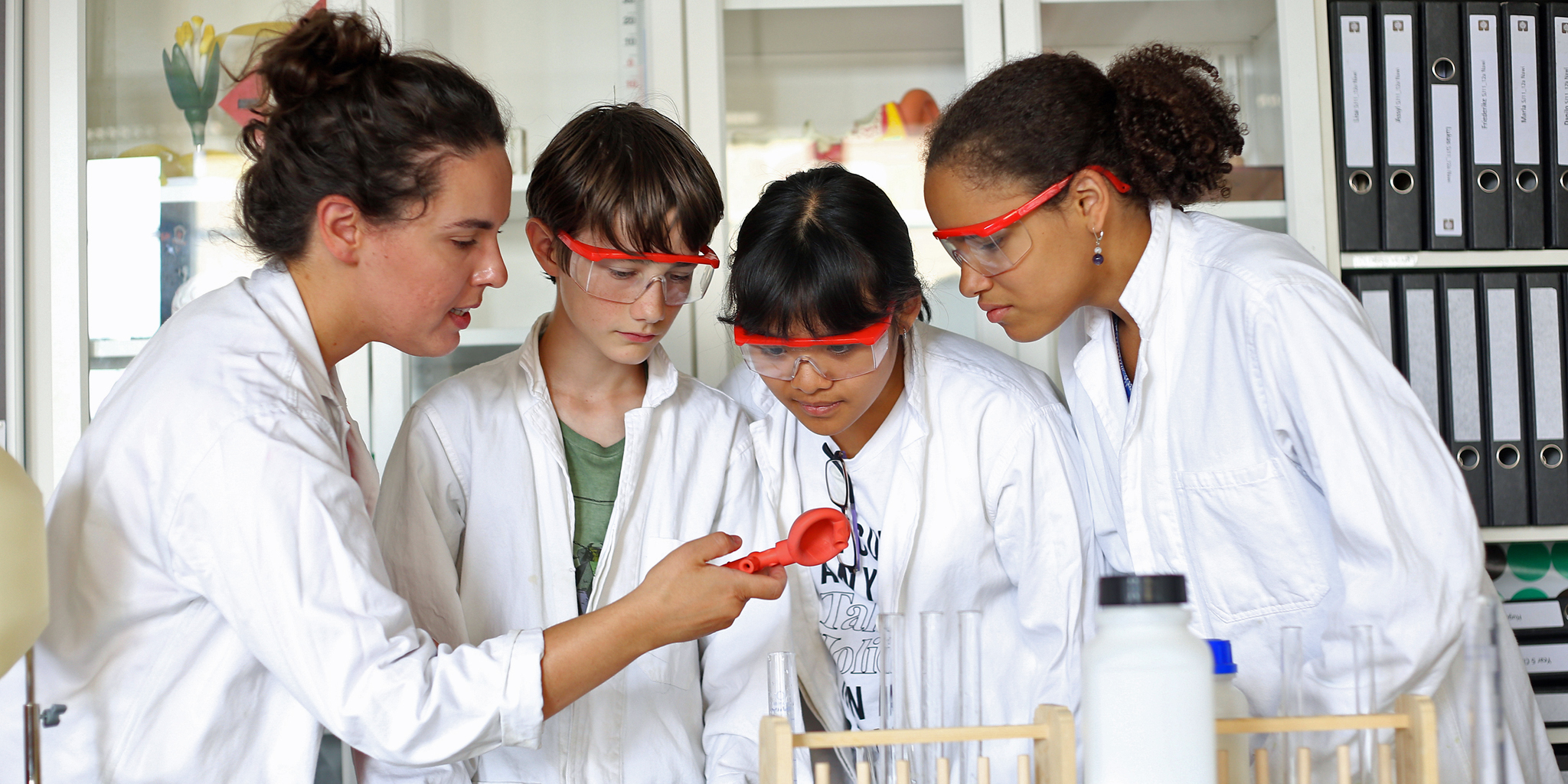 Our students learn how to use the computer in a natural way in our computer lab, in the the classrooms, in the library and online for targeted research and in the units for media competency where they learn further important foundations and skills for using both new and old media. As a prerequisite, our school has technically very well equipped classrooms, W-LAN in every room as well as access to the Internet and school network, Promethan Active Panels in all classrooms and subject rooms, a desktop PC in every classroom, an own laptop for every staff member, additionally a desktop PC in the staff area and in the school library, a modern equipped computer lab with 24 workstations and PCs of the type Lenovo ThinkCentre M70Q as well as class sets of mobile devices (Surfaces) for our students and a reliable technical support. With powerful graphics computers and the latest software in the computer lab, our colleagues offer exciting opportunities in the area of graphics, video and 3D applications in the classroom and during all-day hours. In addition, we have a 3D printer in the science department, which we like to use in class and for project days.
All students in each grade level have their own Microsoft 365 account and Platanus email address for media-enabled work and communication at school and at home – with each other and with our team. We use MS Teams for Education to deliver and edit learning content and homework, upload photos and videos, launch surveys within our school community, and communicate within groups, classes or school-wide. The chat feature in MS Teams provides a quick way for students to contact each other and/or teachers if learners have questions or problems. In addition, they can form different learning groups – depending on their needs – consisting of students and teachers.
Around the world, business associations emphasise the importance of the availability of a workforce with a MINT focus for the innovative strength of companies. By focusing on these subjects, we offer our students the prerequisites for a perfect start to the appropriate apprenticeship or degree program and thus the best opportunities on the German and international job markets. Our aim is to sustainably inspire as many children and young people as possible so that they also decide to pursue a professional career in these fields. We are planning further collaborations and projects, collecting innovative ideas for shaping our school life, and continually evaluating our MINT profile. In doing so, we also keep an eye on the growing shortage of skilled workers and the challenges of the future, but first and foremost we feel a deep passion for the STEM subjects and are happy to pass this on to all students at PLATANUS SCHULE BERLIN.
Questions and Answers about MINT
In the primary school, we develop the mathematical and scientific foundations in a playful manner so that our students are open to these topics right from the beginning. In science and social studies (Years 1 to 4), mathematics and especially on our fortnightly project days, we deal with any questions relating to everyday life that the children may have.
From Year 1 onwards, we teach a higher number of lessons in science and social studies than in the Berlin primary schools and in support teaching with a Class Erzieher*in.
In addition, science and social studies also takes place in our schoolyard. In raised beds and in a green space we grow our own vegetables, sow our own flowers and bee pastures and have even built a compost heap. We have planted fruit trees, berry bushes and other useful plants and maintain a cooperation with the gardening school Pankow. In attractive clubs, such as Robotics, SCRATCH – Programming or in our Science Club, and in the holiday program, we offer MINT-specific activities outside the classroom in an age-appropriate way.
Regular visits to Berlin museums and institutions, such as the Natural History Museum, the Museum of Technology, the Science Center, the Botanical Garden, or the Computer Games Museum, as well as varied MINT-related activities during our project days, inspire our students every school year.
In Years 5 and 6, the sciences are taught in German and/or English, in Support-Teaching with the Class Erzieher*innen in a cross-curricular way. The aim of this, is to develop a basic understanding of the close subject link between the scientific subjects of biology, chemistry, and physics and for the students to expand their scientific vocabulary in both languages as well as to promote skills through interdisciplinary thinking and learning.
With Robotics, Computer Skills and STEAM (Sciences/Technology/Engineering/Art/Mathematics) we offer attractive elective courses with MINT reference. Two-thirds of our students voluntarily chose an elective course in the MINT field in the last school year – from a wide range of different electives. This confirmed that we were successful in getting our children excited about MINT topics in Years 1 to 4. Since the school year 2021/22, we have successfully participated in the World Robot Olympiad with students from the robotics elective. Detailed information can be found here.
In the secondary school, we teach through a mixture of specialised lessons, fortnightly project days, and our Work & Travel program. We address the students' real and life related mathematical and scientific questions that reach far beyond the curriculum.
In Years 7 and 8, secondary school students learn Natural Sciences with a total of 2 hours more per week than in Berlin's Gymnasium (high school or grammar school). In addition, from Year 7, we already teach specialized subjects and at a higher level in the sub-disciplines of biology, physics and chemistry.
Exciting excursions and interesting projects await our secondary school students, such as our project day about AI or our schoolwide project day Women in Sciences, excursions, as well as internships and class trips with a MINT reference. We maintain cooperation and partnerships with organisations, companies and scientific institutions (e.g. Greenpeace, Buchlokal, Women in AI and the Lindhof experimental farm of the University of Kiel). Experts from research and business accompany our project days, which we conduct inside and outside the school building.
Media pedagogical goals and media modules derived from them in terms of competencies, skills and practical experience in dealing with new media and digital content, which are built up in students in the course of their school education, are defined in our school's media curriculum and are continuously adapted to the rapidly developing digitalization (new technologies and devices, software programs, forms of interaction, usage habits, etc.). Our "Media Concept" working group continuously revises this curriculum together with the subject areas. These aspects of media education are expressed in the methodological-didactic work of our pedagogues: informing, communicating, presenting, producing, analyzing and reflecting.
We believe that seamless integration of the respective basic IT and media education topics into the subject lessons and by all colleagues at the school is best suited to working with the children and young people on the basis of everyday and subject-related topics as well as the questions and usage needs of the students at the respective grade level in a way that is student-activating, cross-curricular, and sustainable in its continuous application. In other words, we do not have a few rare IT lessons in the PC Lab, but rather a natural and natural integration of IT and media education into the lessons in all subjects as well as into the all-day activities in all grades.
We have already focused on these five media modules in particular and will continue to develop them over the next few years:
Online learning platform MS Teams: communication and collaboration
The use of mobile devices for age-appropriate media education in all subjects and classes
Interactive and creative use of our Promethan Active Panels
Integration of further offers of multimedia and programming in the classroom as well as digital teaching and learning platforms
Reflection on own media use (students, team and parents)
In Years 1 to 4, basic IT education and also media education are integrated into the subject lessons, which are taught at our school with more hours than provided for in the Berlin timetable, and are also taken up and practiced in all other subjects.
In Years 5 to 10, IT and media education is integrated into all subjects – depending on the topic and application. This means that our students have the opportunity to practice using computers, office and learning software, e-mail, Internet and multimedia applications on interesting topics in all subjects. In terms of basic IT education, the subjects German, English, mathematics and WAT (economics/work/technology) should be emphasized here, which train the use of writing programs, spreadsheets, geometry programs, presentation programs, e-mail and Internet research. Media education is anchored in the social science subjects (GeWi in grades 5 and 6 and ethics and political education in grades 7 to 10) and also in WAT lessons.
We are leaning into the further development of our curriculum for IT and media education the objectives and standards of the European Computer Driving License (European Computer Driving License, ECDL – internationally recognized as International Computer Driving License, ICDL). With these methods in modern teaching, we effortlessly prepare our students for an increasingly digitized working and living environment.
However, it is also particularly important for us to show our students how to use new media safely, responsibly, and in a self-determined manner. Starting in Year 5, social, legal, and psychological topics related to media and Internet use (e.g., social networks and privacy, cyberbullying, gaming and gambling addiction, media addiction in general, data protection, and rights to one's own image and sound) will have a firm place not only in the classroom or during all-day and study times, but also in the class council, student council, school conference, and school life in general. Starting in the 2023/24 school year, IT and media education project days will also be held in all grades, depending on the content focus, in cooperation with the Pankow Media Center in their creative workshop or at our school, also as part of our new prevention concept on aspects of media use and consumption.
In the 2019/20 school year, on the initiative of two parents' representatives, we founded our own MINT working group, which is dedicated exclusively to sharpening our MINT profile even further, entering into exciting collaborations with external MINT partners, organising instructive training courses for our colleagues and offering even more MINT-related activities. Parents' representatives, members of the school leadership team an our subject teachers are active in this working group.
If you are interested in an exchange or have any questions, please write to zvag@cyngnahf-fpuhyr.qr. Your contact person for all MINT topics is Ms. Joana Kappes, our Head of School Lessons – Years 5 to 7.
Of course! In music, art and physical education, too, our subject lessons, our all-day activities and the very well-equipped subject rooms awaken the children's talents. From Year 1 onwards, music, art and sports lessons are only taught by trained subject teachers and in specially equipped subject rooms. Art lessons, for example, are taught according to the art education concept TAB, which enables the students to take more responsibility for their own artistic creative process. The abbreviation is an acronym for Teaching for Artistic Behaviors. More information here: Unser Kunstunterricht: Wir praktizieren TAB!.
In many different clubs, on project days, in competitions or in performances on the big stage, children and young people who are enthusiastic about art or sport can also realise their potential.