Teaching
In accordance with the specific profile of our school, we place the subject and pedagogical focus of our lessons on bilingual education in German and English as well as broadening mathematical, scientific and information technolgy topics, and their use in questions and areas relating to careers and everyday life.
In our school, we teach using the Berlin Curriculum Framework and plan our teaching based on the Berlin timetable. Subject teaching is spread across the six primary school levels as well as the secondary school levels and is taught equally in both English and in German. The ratio of teaching in German/English can vary between individual year levels.
We design our teaching to be methodically and didactically goal oriented. This is achieved through internal differentiation, Team-Teaching and Support-Teaching, learning support in small groups, cross-curricular project days, group and partner work, station work, discussions, presentations, learning methodology training, media supported teaching, and also through classic forms and methods such as frontal teaching (in particular the instructional phase), direct literacy input and various forms of dictation.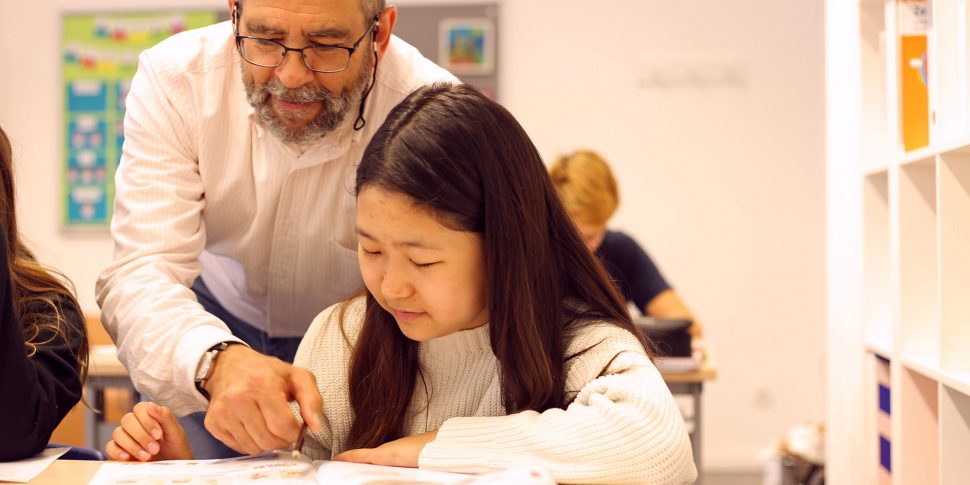 How is the day organised?
Lessons begin at 8:10
Lessons conclude at 15:30
Early leaving time on Mondays at 13:30 for Years 1 and 2 and at 14:10 for Years 3 and 4
Early leaving time on Wednesday at 14:50 for Years 7 to 10
Early leaving time on Fridays at 13:30 for Years 1 to 6 and 10
Daily schedules may vary from time to time due to lessons in DaZ (German as a Second Language) or EAL (English as a Second Language) or swimming lessons in Year 3.
In order to make the school day as comfortable as possible in all year levels and to allow everything to run smoothly, the daily schedule of Years 1 and 2, Years 3 and 4, and Years 5 to 10 are varied. By doing this, we guarantee a peaceful lunchtime, relaxing break times in the school yard and optimal use of the subject rooms. Every class receives a timetable and daily routine schedule at the beginning of the school year.
At our school, individual lessons last 40 minutes as opposed to the regular 45 minutes, which allows us to run bi-weekly project days. We teach in 40, 80 or 120 minute blocks.
We meet the natural needs of our students through the regular change of phases, which require higher levels of concentration (teaching blocks), with phases of relaxation (40 minute breaks). Through this rhythmic daily routine, we achieve optimal learning conditions for the children and young people in all subjects and at all times of the day.
Timetable Primary School
We base our timetable on the standard Berlin Timetable and complement it by placing emphasis on the following:
English from Year 1
Strengthened Social Science teaching with digital contents
Swimming lessons in Year 3 (1 hour per week)
Bicycle riding test in Year 4
Elective courses in the school year 2020/21 in Year 5 and 6: Spanish, Theatre, Ceramics, Art as Communication, Robotics, Coding, S.T.E.A.M.(Sciences/Technology/Engineering/Art/Mathematics)
| Subject | Years 1 to 4 | Years 5 and 6 |
| --- | --- | --- |
| Weekly Hours | 26 | 31 |
| German | 6 | 5 |
| English (1st foreign language) | 4 | 5 |
| Mathematics | 5 | 5 |
| Science and Social Studies | 4 | – |
| Natural Sciences | – | 4 |
| Social Sciences | – | 3 |
| Music | 2 | 2 |
| Art | 2 | 2 |
| Sport | 3 | 3 |
| Compulsory Courses | – | 2 |
Timetable Secondary School
We base our timetable on the standard Berlin Timetable of the Gymnasium (high school or grammar school). We complement this timetable by placing emphasis on the following:
an additional weekly English lesson
Natural Sciences are taught starting from Year 7 with 6 lessons per week, divided into the subjects Biology, Chemistry and Physics
Spanish as a second foreign language (4 hours per week)
Elective subjects are removed because the students cover a variety of different themes through bi-weekly project days.
| Subject | Years 7 to 10 |
| --- | --- |
| Weekly hours | 34 |
| German | 4 |
| English (1st foreign language) | 4 |
| Mathematics | 4 |
| Spanish (2nd foreign language) | 4 |
| Biology | 2 |
| Physics | 2 |
| Chemistry | 2 |
| History | 1 |
| Political Education | 1 |
| Geography | 1 |
| Ethics | 2 |
| Music | 1 |
| Art | 1 |
| Physical Education | 3 |
| Economics, Work, Technology (WAT) | 2 |
Questions and Answers on teaching