Our new courses: Robotics and Coding!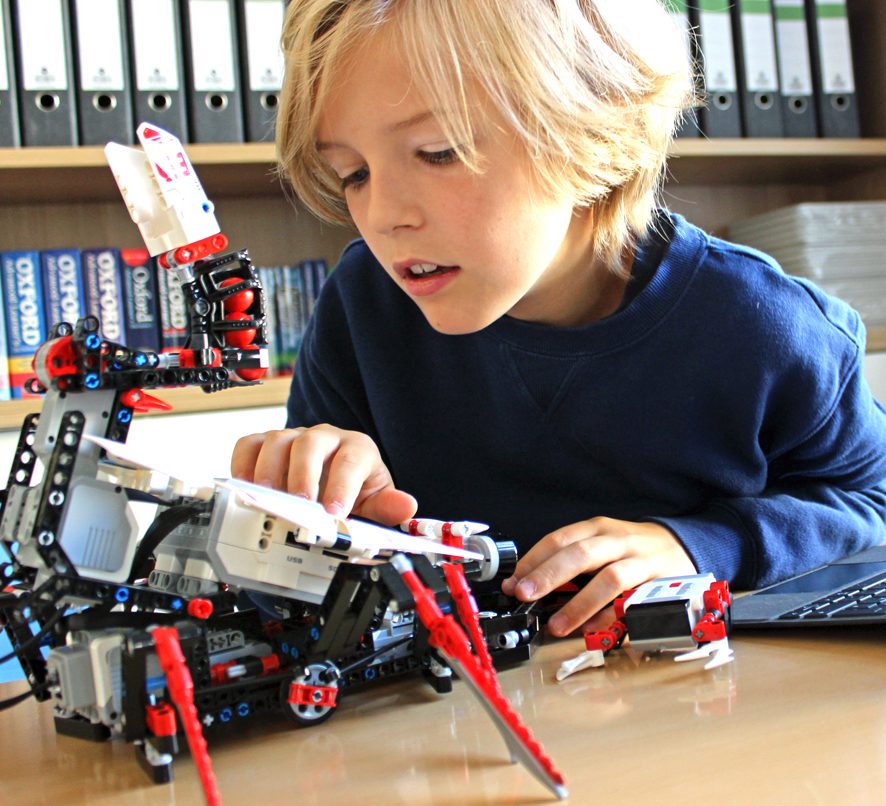 From this school year we offer two new elective courses in grades 5 and 6. In addition to our classics IT and Media Studies and STEAM, students can now also choose Robotics and Coding. We now offer four different elective courses with a focus on science/mathematics and IT.
The enthusiasm of the children has been huge and we have received so many registrations that we had to open 2 courses in each of these two new school subjects. We were especially pleased that half of all registrations came from our girls.
In Robotics 24 children now learn to design and program their own robots with the "Lego Mindstorm Education EV3 System".
First they get to know the basic components and functions of a robot and practice programming on a tablet. Step by step, the programmable computer is then linked to the robot's sensors and motor skills to allow the Lego robot to perform certain tasks independently. Various sensors, such as color sensors, motion sensors, light sensors or distance sensors are used.
In this introductory course, the basic understanding and know-how in robotics are acquired. In the advanced course, the children themselves become creative in order to set their own constructions in motion.
In the optional subject Coding, 24 students also learn programming and coding with the "Scratch" program created at MIT (Massachusetts Institute of Technology) and later with a variety of other coding platforms. From logic-based games to writing scripts, course participants learn the language of information technology.
In this course, the children will not only write lines of code, but they will also create interactive stories, websites, games and animations. The course will cover various subjects such as art, music, science and mathematics. Coding not only improves students' writing and math skills but also encourages them to think differently and creatively.
In December, an exciting workshop on AI (Artificial Intelligence) is planned for the children in these two new elective courses Coding and Robotics.
For children who are not interested, there were of course other elective courses from the fields of music and social sciences to choose from.