Platanus storms the Hall!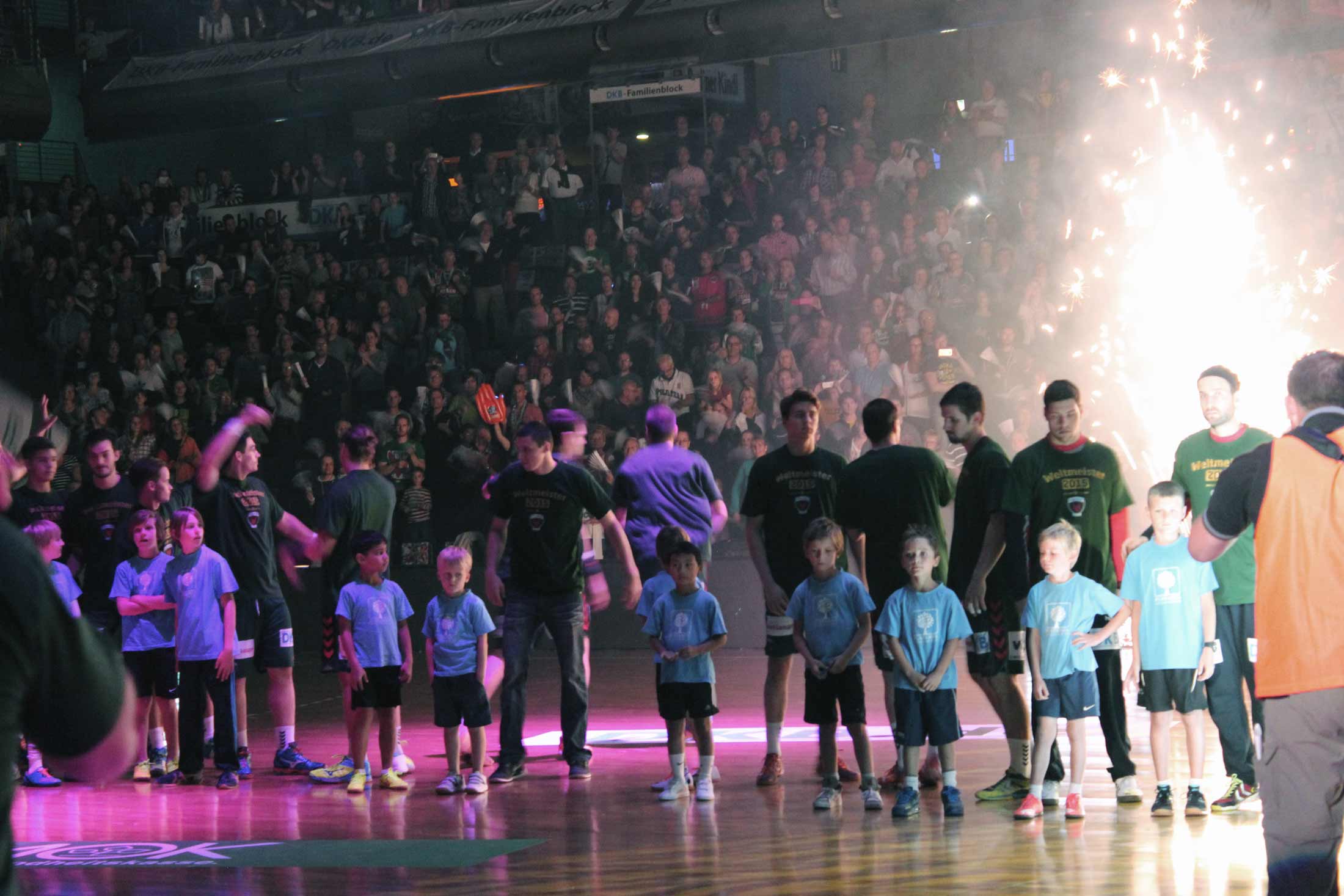 September 25th, 2015 • Füchse Berlin run into the Max-Schmeling-Halle with the World Championship Trophy and our Platanus children.
Only 3 weeks after school started back, the children from our Handball club finally got to visit the Max-Schmeling-Halle again, to watch the home game of Füchse Berlin. However, this wasn't just any home game. It was the first home game after a tournament where they won the first title of the season in Doha only ten days earlier. The Füchse Berlin team became club world champions! With this title, they went into the second home game of the season with renewed strength.
Nervous and full of excitment, our 1st – 6th graders entered the Max-Schmeling-Halle. The atmosphere in the tunnel was indescribable. Füchse Berlin had just won the first trophy of the current season and, of course this time, they couldn't be without the cup.
Before the game kicked off in front of thousands of spectators, the Berlin mascot "Fuchsi" stopped by to take away the children's nervousness. Then it was finally time. Every Füchse player took a child by the hand, they were called out individually and then both the player and the Platanus child ran into the Max-Schmeling-Halle to a roaring applause and a lot of fireworks. Of course, the World Cup was also presented.
During the game, the children cheered the Füchse on loudly and rejoiced at every goal. The Füchse were also able to take control of this game and their supporters were in good voice. After the victory the children stood in line in the tunnel to get autographs from each player.
With beaming faces, the small Handball experts said goodbye to their idols and were able to enjoy the celebrations in the forecourt of the hall, which the Füchse had invited them to.