Platanus teams successful at the World Robot Olympiad!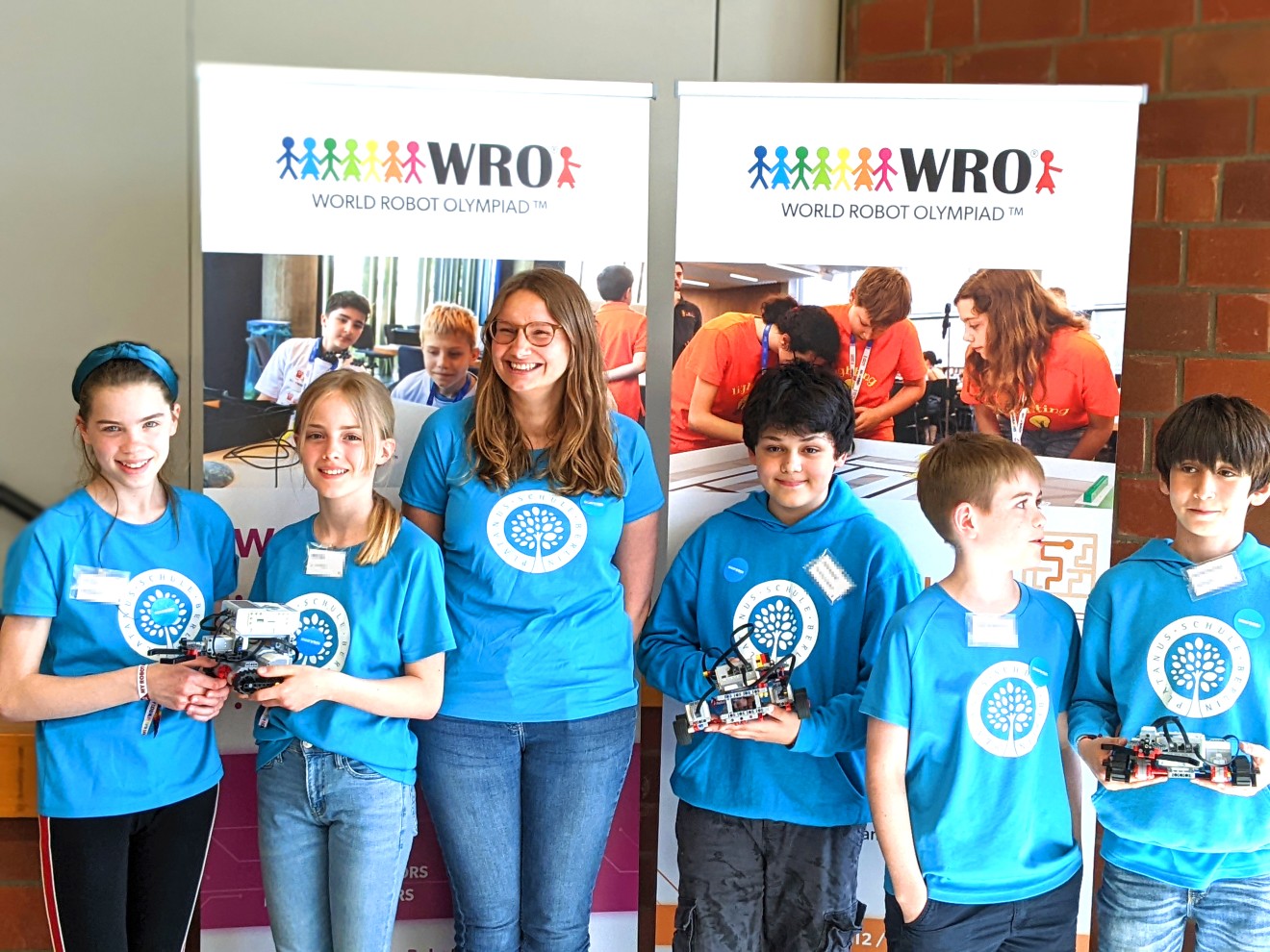 Our school participated in the World Robot Olympiad for the first time. The most talented students from our Year 5 and 6 Robotics elective course came together and competed under the guidance of our wonderful NaWi and Robotics teacher Ms. Barry. Here is a detailed report of their experience:
At 9 am we arrived at the Bildungs- und Forschungszentrum Berlin e.V., Georg-Schlesinger-Schule with about 10 other teams spread across the different categories.
During the welcome speech we got the surprise challenge – cut down a lego tree for an extra 20 points! With that the competition began, and two hours of building and programming time followed. Our three teams set to it – the Victus crusaders from 6a and 6b the Opferratten from 5b and the Double decker from 6a. Soon the time was over, and it was time for the first judging round. Both Opferratten and Double decker managed to get over 50 points on their first attempt, but sadly the Victus crusaders were still having some problems with their caterpillar tracks and sat the round out. One more hour of practice and we reach round two – this time, lightning fast, the Opferratten jumped ahead earning 54 points, whilst Double decker kept up, earning a respectable 47!
After a bit of lunch and a much needed visit from Ms Leong, Ms Kappes and Dr Stahl, who brought sweets and words of encouragement, we had our final two judging rounds. We were especially pleased that parents, grandparents, siblings and friends of our competitors were there to cheer on our three Platanus teams.
Round three was neck and neck for Opferratten and Double decker – both receiving their highest score of 61, and the Victus crusaders were up and moving and claimed 22 points for the round!
All was to play for in the final judging round – the Victus crusaders pulled off a fantastic return gaining their highest score of 40 points! Still neck and neck for the final, the Opferratten team managed to repeat their second highest score of 59 and with that a total of 120, qualified for the Deutschland finale in September and took home the trophy! Double decker, with a total of 115, and the only all girls team across the whole competition, came in second , whilst the Victus crusaders ended in third place.
Here are all the results and times from this year's World Robot Olympiad and it's amazing how close the two best teams were: https://www.worldrobotolympiad.de/saison-2022/wettbewerb-ergebnisse/325/berlin-robomission. We are incredibly proud of our students that they immediately took first place in Berlin the first time. Please keep up the enthusiasm and passion, because the next step is the German final in Chemnitz in September.
All in all, it was a great day and a first for our Robotics elective to participate in such an event. We would like to thank our enthusiastic Ms Barry for organising the event, our dedicated head of school Ms Kappes for her continuous efforts to get our students excited about STEM topics and last but not least our ladies and gentlemen at the 'Platanus & Friends' for sponsoring our participation.